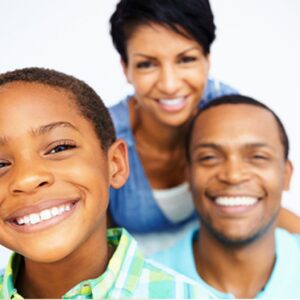 Do you feel that your smile doesn't stand out as much as it should?  Do you have a tooth that just never seems to fall in line with the rest and you notice it every time you look in the mirror?  Do you refuse to smile for pictures because of a missing or chipped tooth?
As a cosmetic dentist in Evans, GA,  we at Greenbrier Family Dental know that a beautiful, glowing smile is one of your biggest assets, and we feel you shouldn't ever be embarrassed to show your teeth.  We love to improve the aesthetic of our client's teeth so they are finally proud of their smile!  Visit our smile gallery to see images of the improvements we have been able to make for our clients!
Greenbrier Family Dental offers the following cosmetic dental procedures:
Teeth Whitening
"Tooth Bleaching" is one of the most common cosmetic dental procedures, and there are many whitening options available.  Our office only provides teeth whitening services accepted and approved by the American Dental Association. Tooth Whitening is a service we can discuss at your initial consultation.
Composite Bonding
Composite bonding is an alternative to Veneers, and is also used to restore teeth that have been chipped, broken, or misaligned.  It is also a good option to use when closing a diastema (space between teeth), but can stain over time.  This procedure is often completed in a single visit.  See our smile gallery for examples.
Orthodontics
Procedures such as Invisalign or traditional "braces" fall into this specialty.  Our Doctors will evaluate your smile and determine if Orthodontics is an option.  If so, we can refer you to an Orthodontist to assist you in achieving the results you want.
Porcelain Veneers
Thin, custom-made ceramic laminates that are bonded directly to the front surfaces of your teeth.  These high quality porcelains are virtually undetectable and highly resistant to staining.  Veneers should only be considered after Orthodontic treatment has been determined not to be an option for the patient.
Porcelain Crowns
A crown or "cap" that replaces the entire external portion of the tooth down to the gum level.  All ceramic or full porcelain crowns are the most beautiful and natural looking cosmetic option, while providing desirable strength.  See our smile gallery for examples.