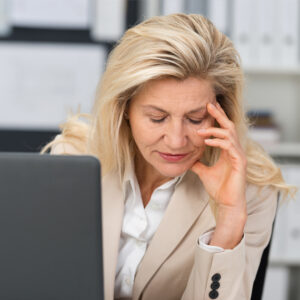 Stress and Trauma
Trauma and stress seem to be the most likely causes of TMD Disorder.  Major trauma, such as blows to the head, auto accidents, falls and sports trauma involving whiplash can be factors.  Minor trauma, involving being open too long for surgical/dental procedures, bruxism or grinding of the teeth (usually stress related) over a long period of time can be factors as well.  Some patients also have connective tissue problems, loose joints, or genetic factors that contribute to TMD.
Many of our TMJ Disorder patients have already been to multiple other providers and specialists before they ever find us, and most instances, have spent much time and money, with sincere efforts by those providers, in trying to get relief.  However, most have only experienced temporary relief or none at all.  Our referrals come from our existing patient base, oral surgeons, dentists, and local providers.
If this sounds like you, or someone you know, call our office to schedule an evaluation and we would be happy to discuss this with you.
Training and Credits
Dr. Scott trained under Dr. Euguene Williamson, who developed a technique of jaw repositioning movements and orthotics to treat the disc displacements through repair and regeneration.  These methods aim to recapture the displacement and reduce pressure in the joint on these tissues.  Dr. Williamson has taught and researched this method for over 40 years with over 100 publications citing the success of these methods.  Williamson's procedures have been proven clinically, to be over 95% successful non surgically and is based upon clinical experiences and Williamson's research as reported in professional journals.  Dr. Scott also reads and studies topics in TMJ disorders, but mostly credits his mentor and friend, Dr. Eugene Williamson, with the foundation for the treatment modalities he uses to treat patients with TMJ Disorder.